Yoga Of Sailing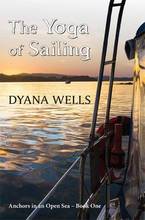 Stock information
: $20

.00

(NZD)

: 9780473373863
: Fiery Scribes
: Fiery Scribes
:
:
: November 2016
: 220mm X 155mm X 14mm
: New Zealand
: 20.0
:
:
:
: books
:
:
:
:
:
:
: 1 black and white map
:
: 240
: Dyana Wells
:
:
:
:
:
: Paperback
: Anchors in an Open Sea
9780473373863
Description
Experience the delight of sailing when it's carried into the risky experiences of navigating around the major islands in the Pacific, from exhilaration to exhaustion! "What drives the desire for spiritual experiences? This and many other questions are explored by Alice and her family." The Yoga of Sailing is an autobiographical novel that gives a unique perspective on Alice's relationship with her father and their conflicting spiritual views. On land and ocean, from Buddhist retreats to onboard romance, Alice navigates a life of rich contrasts and at time tumultuous passions. "The art of living a meaningful life is reflected in the very real and very immediate physicality of sailing through huge seas. We were tired and ill and yet needed to man the night watch despite any frailty." - Alice's Journal The Anchors in An Open Sea trilogy shows island cultures as Alice and her family sail, cycle and backpack from one extreme to another.
Promotion info
Sailing - a life on the ocean that can be like extreme sports, with all the pressures, fears and joys. Alice enjoys sailing, the thrill, the exhilarating physicality of the tug of war with nature. That's with nature, not against it, because Alice feels more in tune with the sea and land and wide seascapes than, often times, her family. Alice's determination to investigate the real meaning of life, on an ocean wave, turns into an adventure that's revealing and disturbing. She rides the inner and outer storms of each new experience - sailing, cycling, backpacking - and falls into an encounter with life that is mystical and earthy. The natural world was Alice's retreat for many years. Now, with the new man in her life, who or what is supporting her. The Yoga of Sailing details the true life adventures, and thrills and spills of Alice, her daughter and father as they meet challenges on a small yacht in a large ocean. Their sailing adventure across the Pacific leads to romance, passion and heroic confusion, while Alice juggles the spiritual and the physical. Join an intrepid journey that is poignant, funny and inspiring.
Author description
Dyana's life has always been shaped around a few central questions: Who am I? What is this thing called life? What am I meant to be doing with my life? These questions seem to be without final answers but capable of revealing ever deepening insights into the mystery of living. They have taken her on many remarkable journeys. Maybe the best words to describe Dyana would be mystical scientist. Her books describe a journey into the confusion and the extra-ordinary love and fulfilment of the spiritual journey. She investigates in a raw way the difficulties and distortions that mystical experience can create. Dyana has a BSc majoring in Botany and Zoology, MA (Hons) in philosophy, MCW (Hons) in creative writing, Dip Yoga Therapy, and a Cert Counselling.